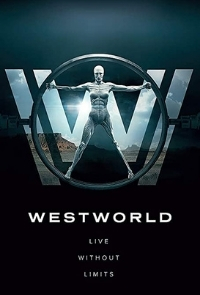 Westworld: Season 1
Created by: Lisa Joy and Jonathan Nolan
Written by: Lisa Joy and Jonathan Nolan
Starring: Thandiwe Newton, Jeffrey Wright, Ed Harris, Evan Rachel Wood, Tessa Thompson, James Marsden, Luke Hemsworth, Angela Sarafyan, Anthony Hopkins
Reviewed by: Brad Williamson
Genre: Science-Fiction
Score: 4/5
Westworld lies at the middle of everything…Now, after writing this opening line, I cannot remember if it's my own writing or if it was said on the show; am I part of Westworld? Have we bridged the chasm between television and reality? I truly don't know and can't say, which is the beauty of this show and its innermost concept.
Westworld follows the actions of a large cast who all inhabit a futuristic theme park that envisions what might happen if virtual reality wasn't so virtual. Populated by humanoid robots, referred to as hosts, Westworld welcomes visitors into a world of violence, sex, and adventure where nothing is punishable, and anything is possible.
The plot weaves the story lines of both hosts and humans together in a web far more intricate than your normal television program. As events both within the park and the administration unfold, it becomes clear that not all is as it seems, and the hosts aren't quite as robotic as previously assumed.
Fueled by powerful acting performances, a complex plot structure, and interesting scientific ideas, the first season of Westworld grabs your attention and doesn't let go until long after the credits roll on the final episode. However, the show's glaring weakness is exactly what makes it so great: the powerful acting sometimes flops (I'm not a fan of Thandiwe Newton or Evan Rachel Wood), the plot structure gets so complex at times it loses itself, and the interesting scientific ideas are not always utilized beyond an off-hand mention.
Still, the show is very good and will easily captivate any fan of science-fiction. Recommended for everyone but the most unimaginative.