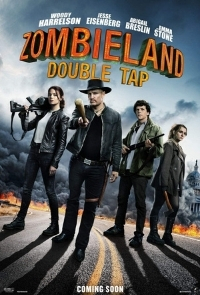 Zombieland: Double Tap
Directed by: Ruben Fleischer
Written by: Rhett Reese, Paul Wernick, and Dave Callaham
Starring: Emma Stone, Woody Harrelson, Jesse Eisenberg, Abigail Breslin, Zoey Deutch, Rosario Dawson, Luke Wilson
Reviewed by: Brad Williamson
Genre: Comedy / Parody
Score: 2/5
Zombieland: Double Tap is a direct sequel to 2009's hilarious parody, Zombieland, but maybe it shouldn't have been made. While I love the entire cast and enjoyed snippets of the film, it didn't have much purpose. Many sequels flop because they don't know what they want to be after the success of their predecessors; this is not Double Tap's problem. Zombieland 2 fails because it knows what it wants to be, which is just another Zombieland.
I enjoyed it, but I enjoyed the first one, too. I like the cast. Still, I didn't want to see them doing the same things. I wanted something new, which this was not. And the thing is, it didn't feel like it wanted to be anything fresh. I got the feeling while watching that it was happy to be the second half of Zombieland, but with fewer surprises and less originality.
I didn't dislike it, but I am not eager to rewatch it and won't recommend it. I recommend the first, absolutely, and if that leads you to watching the second on your own time, then you probably won't hate it, but it won't provide the laughs or personality of the original.