I Can't Believe You Haven't Seen: Bram Stoker's Dracula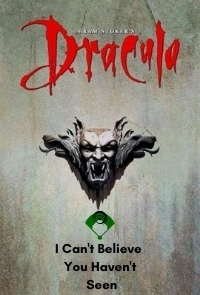 Here we continue our "I Can't Believe You Haven't Seen" review series with the 1992 adaptation of Bram Stoker's classic, Dracula. Very loyal to the novel and atmospheric, the movie channels many of the themes and events from the original story in forming its own unique style. Considering its extraordinary cast, crew, and source material, the film should have been an all-time success and masterpiece, but it ultimately failed at achieving either.  Here's why:
Bram Stoker's Dracula
Directed by: Francis Ford Coppola
Adapted for the Screen by: James V. Hart
Starring: Gary Oldman, Winona Ryder, Anthony Hopkins, Keanu Reeves, Richard E. Grant, Cary Elwes, Billy Campbell, Sadie Frost, Tom Waits
Reviewed by: Brad Williamson
Genre: Drama
Score: 1.5/5
It's amazing that a film drenched in such lore and talent manages to be so…ordinary and uninspired. Oldman is pretty good, and Sir Anthony Hopkins, of course, is a delight, but everyone else is forgettable. I am a huge Reeves fan, but it's clear that he still had much to learn at this point in his career; his acting is a low point of the film. Waits's portrayal of Renfield also leaves much to be desired, as its so over-the-top it becomes unenjoyable.
The lackluster performances don't ruin the film, but they don't help. Neither does the plot structure. Jumping from one unconnected scene to the next, the movie attempts too much while accomplishing nothing. Dracula is not scary, his prisoner is not pitiable, and none of the peripheral personalities arouse any emotion whatsoever.
The saving grace of this film is its tone. Accompanying this unassuming, dreary atmosphere is a series of quality sets that compel the viewer to continue watching, but that's the most positive thing I can say about the movie.
In the end Dracula is not a bad piece of art, but it is a boring one. It could have been a great horror movie, but instead it chose to be a period drama. This decision to make a classic, terrifying tale a piece of bland gothic fare is ultimately where it all went wrong. Not recommended except for those very curious few who feel they must see it for themselves.