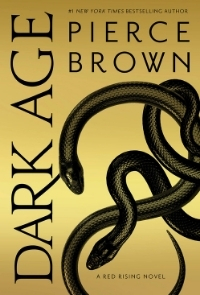 Dark Age: Red Rising Volume V
Written by: Pierce Brown
Reviewed by: Brad Williamson
Genre: Science-Fiction
Score: 3.5/5
With Dark Age, Brown continues his evolution as a writer; as he did in its predecessor, Iron Gold, Brown focuses heavily on developing characters deeply, more fully exploring what makes them important and worthwhile. This is in stark contrast to the first trilogy, where he introduced a vast array of characters in interesting, though hasty, techniques before dropping the hammer of tragedy repeatedly. Iron Gold and Dark Age feel more meditative, more explorative than the previous volumes. Though this makes them less exciting in some ways, and very different from what some readers might expect, I have nothing but praise for Dark Age.
It's the thickest volume yet, but it's not a difficult read. If there's one thing Brown does well, he knows how to make things interesting. To this purpose, he introduces some novel ideas, venturing farther into hard science-fiction than he ever has before. Also, although some of his twists and turns here are less brutal and exhausting than normal, they're some of his most unexpected.
His prose is also refined in this book. He's always been a good writer with rough patches, but in Dark Age he smooths some of these ragged edges, retaining his own unique style and charm while developing into a better author.
All these changes result in a book that is at times unrecognizable, but in many ways this is good. It shows he's not simply repeating himself. It gives me hope that the sixth book is going to conclude magnificently, and that he'll successfully continue his career with this creativity either outside of Red Rising or that he'll go on to elevate the Red Rising universe into the pantheon of great literary realities.
Any way you slice it, Dark Age is a great, exciting, and powerful novel. If you haven't read Red Rising yet, you should; if you're a fan of science-fiction and you haven't yet been introduced, you must. Highly recommended.