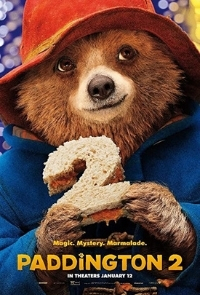 Paddington 2
Directed by: Paul King
Written by: Paul King and Simon Farnaby

Starring: Michael Gambon, Imelda Staunton, Ben Whishaw, Madeleine Harris, Samuel Joslin, Sally Hawkins, Hugh Bonneville, Julie Walters, Hugh Grant
Reviewed by: Brad Williamson
Genre: Adventure
Score: 4.5/5
It took me six years to watch Paddington because I didn't know what I was missing, but I learned my lesson and it only took me six minutes to start Paddington 2 after the credits rolled. 
I'm glad I didn't wait this time.
Full of laughs, thrills, scares, and, yes, even crime, this sequel is even better than its very good predecessor. If you liked the original, there is absolutely no doubt you'll love this film; if you've watched neither, then you need to do so, because they're very good, charming films.
The movie is pretty simple at its heart and it is probably best to go into the viewing without prior knowledge of the plot, but I would like to single out and praise a theme from these two movies that I think is explored better here than in possibly any other movie I've seen: the redemption of a good, happy life despite deep sadness and total desperation.
Throughout the films Paddington suffers innumerable losses and Paul King is unafraid of focusing in on these depressing events. In fact, while watching I often thought it was too sad, too heart-wrenching to be a family film. Still, every time I thought it was too sad to watch, or that Paddington could never recover in a believable and satisfying way, the movie convinced me otherwise, putting a smile on my face and joy in my heart.
Paddington is such a pure character, so full of optimism and love, which the movies portray proficiently and convincingly. He's not just a bear; he's a living being with all these emotions and feelings and experiences and worldviews that he uses to live and deal with all his failures and successes, and others' failures that are put on him.
But nothing is too much  for him, and the movie shows us that nothing is too much for any of us either. There is so much to learn from the character, and from these movies, and I urge everyone to watch the films.
Highly recommended for families, and just as highly recommended for anyone else who likes cinema. One of the best "family movies" of all-time.