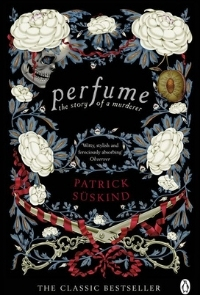 Perfume: The Story of a Murderer
Written by: Patrick Süskind
Reviewed by: Brad Williamson
Genre: Literary
Score: 5/5
Sometimes a novel or a film comes along and unexpectedly blows you away for one reason or another, or ten. Perfume is one such novel. I actually learned about this book from the movie adaptation of the same name and while the film is good and faithful to the story, it's not nearly amazing as its source material. In Perfume, Patrick Süskind takes us on a journey through time, literary styles, and originality unlike anything before or since.
At its heart Perfume is an experiment in how powerful sensory perception can be, but it's also one of the most profound and successful depictions of sociopathic behavior in the history of art. It's entertaining, but it's more than that: it's an opportunity to broaden one's ideas regarding the differences between good and evil, normal and crazy, brilliant and delusional, and it's terrifyingly exciting how closely these polar opposites converge while engrossed in the tale.
Written in a style uniquely its own, Süskind's prose is an inspiration to all aspiring novelists. He breaks so many unwritten rules, but every chapter, every paragraph, every sentence is so captivating that it doesn't matter. Every aspect of the novel is so purposeful and precise that even though many of the scenes were in the film, I felt like I was experiencing them anew.
The movie and the themes are so unreal that many critics and fans classify the story as fantasy. However, I claim scent truly has the potential that Süskind describes. He has brought something to life — indeed made it reasonable to believe in — that would belong in a comic book or a fairy tale if written by anyone else. Here, though, it's real, gritty, and totally absorbing.
Still, if there's one thing I was most impressed with by this novel, it was the cast of characters. Süskind introduces and masterfully develops not only the main character, Jean-Baptiste Grenouille, but all the people in Grenouille's life who unwittingly mold him into the serial killer he becomes. The wonder is in how full and unique each personality becomes in such few words. The book is only 250 pages long and both olfactory descriptions and plot take up most of this, yet half a dozen characters frequent the pages, participating in Grenouille's tale. No one stays around for long, but the density of their actions, motivations, and dialogue is impressive and meaningful.
But Grenouille's development is the most impressive and meaningful of all, make no mistake about that. Süskind delivers us into the inner workings of a sociopathic serial killer, showing us that he's neither evil nor demented and thus forces us to question our own minds and motives.
Exquisitely written, precisely plotted, and filled with a cast and slew of themes that will keep you pondering long after the last page, Perfume is not merely a great book; it's a modern masterpiece and one of the most phenomenal novels I've ever read. Recommended to everyone.