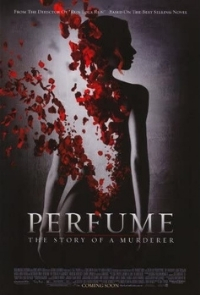 Perfume: The Story of a Murderer
Directed by: Tom Tykwer
Adapted for the screen by: Andrew Birkin, Bernd Eichinger, and Tom Tykwer
Starring: Ben Whishaw, John Hurt, Francesc Albiol, Simon Chandler, David Calder, Richard Felix, Dustin Hoffman, Rachel Hurd-Wood, Alan Rickman
Reviewed by: Brad Williamson
Genre: Crime / Fantasy
Score: 3.5/5
I usually read the book first following an adaptation, but in this case I watched the movie. And I must admit, it will now be the next book I buy. However, it's a strange film. Grotesque imagery, overdone slow-motion and music, an orgy involving nuns and the pope, and sociopathic murders all sandwiched between brilliant acting and beautiful sets create a tone I've never quite felt before. The movie lies somewhere between Cloud Atlas, Sweeney Todd, and Les Miserables without feeling akin to any of them, or to anything else.
The acting throughout is phenomenal, as you would expect from such a celebrated cast. Every role is perfectly executed and it would be hard to pick a standout because no one fades into the background. The sets are also realistic in their depiction of historical settings while remaining beautiful to watch. This combination of top-notch acting and well-made sets gives the film the feeling of being on stage; and, in fact, I would love to see a live version.
I've read reviews that criticized the writing of the film. Without reading the book I don't know how much was taken directly from the text and where passages were rewritten, or even completely recreated, but I enjoyed the writing for the most part. John Hurt's narration is fantastic and the conversations feel dated to the time properly while not coming across as  fake or silly.
I didn't care for the way the score was employed. I liked the music itself, but they used it in scenes that felt laughably overdone, almost to the point of parody. This doesn't happen often, but the scenes where it occurs feel so overwhelmingly silly that they stick out like forgotten thorns on a pruned rose.
I also didn't enjoy how overdone some of it was. I love flamboyant filmmaking, but it feels out of place here. At times I didn't know if the film was trying to be a dramatic period piece, a fantasy story with some realism, or a comedic farce. Most of the film is great and enjoyable, but the parts that aren't really leave a sour taste.
Overall, I enjoyed the film and think it has an exceptionally high production value. Still, it's definitely not for everyone, and I would note certain shortcomings and warnings when discussing it with a prospective viewer.