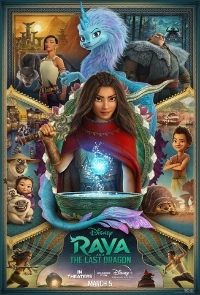 Raya and the Last Dragon
Directed by: Don Hall and Carlos López Estrada
Written by: Qui Nguyen and Adele Lim
Starring: Kelly Marie Tran, Awkwafina, Izaac Wang, Gemma Chan, Daniel Dae Kim, Benedict Wong
Reviewed by: Brad Williamson
Genre: Animation
Score: 3.5/5
Disney's romp into Southeast Asia is endearing as it is beautiful, with just a few big flaws keeping it from being truly great. The animation is beautiful, the plot exciting, and the themes meaningful and powerful. The nods to the diversity of Asian culture are pleasant and respectful, while the overall film focuses more on dystopian aspects, which makes for an engrossing tribute to multiple genres and societies.
Although not as philosophically deep as Soul, nor as culturally meaningful as Coco, it matches the raw emotion of any prior animation. And with such emotion, an intricate world, gorgeous animation, and interesting themes, it's a shame the peripheral characters are so lackluster.
Most of them are okay or good, but Sisu ruins many of the scenes for me. I don't know if the directors thought she was funny or cute or appealed to a certain demographic, but the entire character — the way the dragon looks, Awkwafina's voice acting, its behavior — turned me off of almost every scene involving Raya's best friend. A film can have a bad character, but for that character to be this bad, and for it to be such a major aspect of the film, hurts the quality of the entire movie. And I'm not even going to attempt to justify a ninja con-artist baby as a main character; I hated it, the character didn't work, and I don't know who thought it was a good idea.
The humor of the film also feels off. It is a very serious movie that needs no jokes, but awkwardly inserts them anyway. Problem is, they're not funny. In fact, worse than simply not being funny, many of them are cringe-worthy. They should have been cut during the editing process.
While it might sound like I disliked the movie, I didn't, but these glaring errors were made all the more frustrating because the rest of the film was great. Aside from a couple horrible characters and inappropriate, humorless comedy, the movie is enjoyable and well done in almost every respect. I wouldn't put it in the top tier of Disney or Pixar movies, but it might slot comfortably into that 2nd "very good" level. Recommended, but no masterpiece.