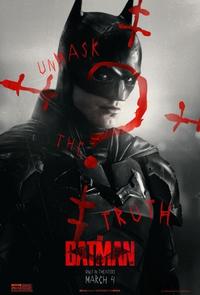 The Batman
Directed by: Matt Reeves
Written by: Matt Reeves and Peter Craig
Starring: Robert Pattinson, Zoë Kravitz, Jeffrey Wright, Colin Farrell, Paul Dano, John Turturro, Andy Serkis, Peter Sarsgaard, Barry Keoghan, Jayme Lawson, Gil Perez-Abraham, Peter McDonald
Reviewed by: Brad Williamson
Genre: Thriller / Action
Score: 4.5/5
At some point Batman will have said everything the character has to say, but this film proves, despite what some might believe, this time has not yet arrived. Anyone remotely interested in this movie will not be disappointed in the least.
Addressing the elephant in the room, its runtime, illustrates why Reeves enters the discussion of elite filmmakers with this project. Though extending beyond three hours in length, "The Batman" never lingers, stalls, or bores. Reeves wields his mastery over pacing throughout the story like a magician. At every turn it gives the viewer the perfect amount, leaving just enough unseen, sprinkling a bit of intelligence atop the thrills and action. Each act within the movie is a film unto itself, the movie packing an entire season of great television into a concise epic.
The acting is marvelous as well. I was never the biggest Pattinson fan but after his performance in Tenet I became interested; now I'm a fan. Wright is Batman's best partner ever; the villains are completely unhinged. Every other character in the film is memorable, with writing that displays a care to even the most minor details throughout the film's conception and production.
Not often does such writing become something unique, but with its combination of amazing riddles that fuel the storyline, diary entries from both villain and hero that hit hard, deep dialogue, and one of the best Gothams ever put on screen, Reeves's direction is outdone only by his and Peter Craig's screenplay.
This instantly goes on the shortlist of best comic book movies of all-time along with V for Vendetta, Batman Begins, and Infinity War; it's not outrageous to immediately claim it might be the best. There were only two scenes in the entire film that I can think of the slightest critique for, and they're minor complaints at worst. It. Is. That. Good.
Recommended. Go see it. The sequel cannot arrive soon enough.