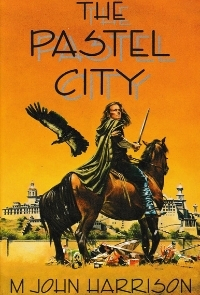 The Pastel City
Written by: M. John Harrison
Reviewed by: Brad Williamson
Genre: Science-Fiction / Fantasy
Score: 4.5/5
With The Pastel City  M. John Harrison created one of the most beautiful blends of fantasy and science-fiction ever envisioned. Brilliantly plotted, with prose full of surprises and surreal imagery, this small novel–almost a novella, mind you–packs more excitement, lore, character-, and world-building into 150 pages than some series fit into entire arcs.
Part of a collection of stories revolving around the city of Viriconium, The Pastel City both holds its own as a standalone tale and helps elevate the compilation above being a mere series of connected tales. It's not immediately clear what it has been elevated to, but that's the allure of this story and Harrison's writing in general. But the reader can be assured that it has been elevated to something that you'll remember forever and will stick in your thoughts for weeks and months and years to come. Harrison is the type of writer whom you compare all others to, and this book is no different in this respect.
Some may view the structure and themes as simplistic, but those people are wrong. The pace of the story charges at you relentlessly and if you're not careful the book is done before you know it; in this case, the depth of the ideas and Harrison's unique take on mixing science-fiction and fantasy are likely to fly over your head in favor of sheer enjoyment.
Make no mistake, though, as the novel is thrilling, but its ability to excite while also embedding complex introspections on the nature of civilization, duty, violence, power, responsibility, bravery, technology, while touching on just about every motif in between, is where it exceeds all expectations and why it is so great.
Almost 50 years old, this story feels fresh and new. Readers always ask for comparisons and these are usually difficult to make, but if forced to compare The Pastel City to anything I would say that despite the short page count it's a delicate combination of Mervyn Peake, Samuel Delany, Iain M. Banks, James Enge, and Ken Liu, if you can believe it. Of course that's not a perfect description, and at its heart the story is all Harrison, but for those unfamiliar with his writing, this should give some guidance.
Recommended to anyone reading this. Go buy the nearest Viriconium collection and read it this weekend. No matter your expectations, you won't be disappointed.