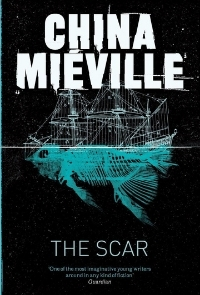 The Scar: Bas-Lag - Volume II
Written by: China Miéville
Reviewed by: Brad Williamson
Genre: Science-Fiction / Adventure
Score: 5/5
Writing a great novel is difficult enough already, but you'd think following up a story like Perdido Street Station with something equally original and spectacular would be impossible. You'd be wrong, because Miéville did just this with The Scar.
Though not a true sequel, the world of Bas-Lag is the same and the characters are linked such that it feels like a coherent series. Whereas Perdido Street Station explored Bas-Lag's physical reality, government institutions, varied races, and the city, The Scar adds to that with legend, lore, the wider world, and more adventure than any single tome has a right to contain.
The book's size might scare unfamiliar readers away, but it all flies by in a moment, leaving you only wanting more despite its heft.
Everything about this novel is such a complete joy. Miéville is definitely an appreciated author, but this book in particular is quite unknown relative to Perdido and City in the City, which is a travesty considering it might be his most special offering.
A highly recommended masterpiece this one is.