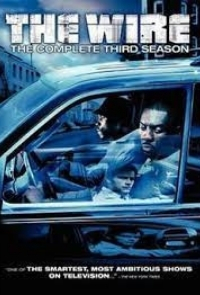 The Wire: Season 3
Created by: David Simon
Written by: David Simon, Ed Burns
Starring: Dominic West, John Doman, Deirdre Lovejoy, Wendell Pierce, Lance Reddick, Sonja Sohn, Seth Gilliam, Domenick Lombardozzi, Clarke Peters, Andre Royo, Michael Kenneth Williams, Jim True-Frost, Frankie Faison, Wood Harris, Idris Elba, Corey Parker Robinson, Delaney Williams, J.D. Williams, Aidan Gillen, Jamie Hector, Gbenga Akinnagbe, Robert Wisdom, Anwan Glover, Felicia Pearson, Robert F. Chew, Isiah Whitlock Jr.
Reviewed by: Brad Williamson
Genre: Crime
Score: 3.5/5
Season 3 continues the show's tradition of taking unexpected yet realistic twists and turns. It also becomes more political; if season 2 increased the scope from Baltimore to the whole world, then season 3 increases the scope from police force politics to state and national concerns. With its focus on down-to-earth dialogue and conceivable, though shocking, chains of events The Wire doubles down on defining the boundary between right and wrong.
The acting is phenomenal. Every scene, every conversation, every joke is executed flawlessly. I've seen very few shows or movies match The Wire's raw greatness in regard to acting brilliance.
Despite the new stories, the writing remains crisp as ever, but for the first time the show slows down. One could say it pulls back from the action and intensity of the first two seasons in favor of plot development for the home stretch, and maybe I simply did not like some of the new additions as much as I'd hoped to, expectations being high as they were, but I'm going against the grain of public opinion to say that season 3 was slightly disappointing.
Sure, I enjoyed the councilman's story and the complex web of intrigue. I also enjoyed the political character studies. Stringer going out on his own was fresh. Everything was good and well done, but, to me, it didn't have the punch of the first two seasons. Maybe season two was just too great for its own good, or maybe I had incorrect expectations after waiting two decades to view it, but it wasn't perfect as its predecessors.
No doubt it's still great, and the show remains an all-time best program, but season three is the low point of the series. Definitely recommended, though, so don't stop here.