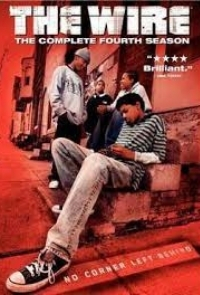 The Wire: Season 4
Created by: David Simon
Written by: David Simon, Ed Burns
Starring: Dominic West, John Doman, Deirdre Lovejoy, Wendell Pierce, Lance Reddick, Sonja Sohn, Seth Gilliam, Domenick Lombardozzi, Clarke Peters, Andre Royo, Michael Kenneth Williams, Jim True-Frost, Frankie Faison, Wood Harris, Idris Elba, Corey Parker Robinson, Delaney Williams, J.D. Williams, Aidan Gillen, Jamie Hector, Gbenga Akinnagbe, Robert Wisdom, Anwan Glover, Felicia Pearson, Robert F. Chew, Isiah Whitlock Jr., Michael Kostroff
Reviewed by: Brad Williamson
Genre: Crime
Score: 4/5
Season 4…My goodness, where to start? In a universe of crime, politics, and amazing performances, it's impossible to focus on any single aspect or character. Still, there are highlights among the highlights: Michael K. Williams is magnificent, the writing throughout every scene and episode lives up to the standard set by previous seasons, and the show's commitment to reality over exaggeration relentlessly plows through viewers' expectations and desires.
And it is this very juxtaposition of what you want to see next to what the show gives you, along with how you feel immediately following the viewing compared to how you feel hours, days, and weeks later, that convinces me the show is an all-time great. No matter how much I hate certain plot twists, dislike specific characters, wish this or that would have happened, no matter what I think or feel, the show forces me to think and feel in its way, which is realer and thus more meaningful than any more entertaining execution my own desires might have produced.
This season introduces the school system and the inherent difficulties involved in coordinating proper education from political, economical, and teaching perspectives. How much can teachers do without funding or help? How well can a student in this environment do, when their school is in ruins? How can a city pay for good schools when crime, corruption, and other issues run rampant?
Though this season still lacks the plot of seasons one and two, its world finally takes over and becomes a plot in itself. In many ways, this is where The Wire's plot becomes reality. It doesn't need a contained story because if you look around you at the world outside, you can see how ingeniously it depicts our very society, without exaggeration, bias, or hatred. It shows us what we are, what we've become, and asks us, "If you can't stomach this on television, why are you accepting it in the real world, every day?"
Highly recommended and one of the best seasons of one of the best shows ever.