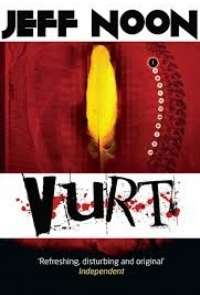 Vurt
Written by: Jeff Noon
Reviewed by: Brad Williamson
Genre: Science-Fiction / Strange-Fiction
Score: 4/5
Vurt is another example in the long line of instances where the Arthur C. Clarke award, despite seeming slightly less well-known than the Hugo, Locus, and Nebula awards, manages to perfectly select the deserving underdog. And here, maybe deserving is an understatement, because Vurt is a wild ride, full of big questions, insane action, comedy, ridiculous characters, alternate realities, outrageous drugs, hilarious dialogue, all wrapped up in a confusing yet sincere plot that weaves in and out of traffic so much that driving straight would seem unordinary. Yet, through all that, everything makes sense and thoroughly entertains.
Its pace and prose are the novel's strengths, as each page carries a swift punch before moving into the next hook with beautiful footwork; the structure and storytelling feel like a boxing match. Each new scene is completely unexpected and unpredictable, but the reader can sense that Noon had everything plotted, prepared for, and planned. Despite its hectic, zany nature, it's somehow cohesive in a way many more ordinary novels fail to achieve.
In fact, everything else in this novel takes a backseat, and that's okay. The characters, the events, the feathers, the world, everything pulls you in, but what makes you stay is something less identifiable in the way that Noon has glued everything together, has made everything move so oddly, hypnotizing the reader.
I actually liked all these aspects of the book, but at the end I couldn't think of one particular character or event or theme that I enjoyed or valued above all others. I could only think about how Vurt was unlike anything else I've ever read. And sure, I've read some unique books that are unmatched in their weirdness (I'm looking at you, Mieville) or grotesqueness (Lovecraft, Delany) or complexity (Cixin), but Vurt takes this idea of being different in a novel direction. It may not be perfect, but it copies nothing and is wholly itself.
Definitely recommended for all science-fiction fans, but also for action buffs, tech geeks, psychonauts, and anyone who likes to try something new. At the very least you'll be shocked and surprised, but you'll probably also be glad you read it.