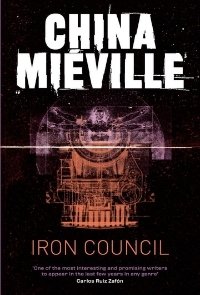 Iron Council: Bas-Lag - Volume III
Written by: China Miéville
Reviewed by: Brad Williamson
Genre: Science-Fiction / Fantasy
Score: 4/5
Iron Council is the third part of China Miéville's wondrous Bas-Lag series, and as with both Perdido Street Station and The Scar, despite sharing the world of Bas-Lag, it is uniquely its own and every bit a Miéville story.
Whereas the differences between Perdido and The Scar hindered absolutely nothing, however, the beginning of Iron Council is the slightest bit jarring. It's also significantly shorter than the other two offerings, which gives the entire novel a different tone. Still, as a Miéville fan, which, if you're about to read this novel you surely are as well, I loved this book.
Expect everything Miéville consistently promises and delivers: amazing prose, action, characters that defy expectation, settings that boggle the mind, and a chemistry of writing that somehow makes the impossible concepts and events make sense in a natural way, despite how unnatural everything feels.
I enjoyed this novel slightly less than both Perdido and The Scar, but I don't consider it a lesser novel. Still, it doesn't quite feel like a perfect story like its predecessors, and for this and many more reasons, I hope Miéville's recent absence from new full-length novels indicates he's attempting to return to Bas-Lag and it's simply taking him longer than expected.
Great book and highly recommended to any fan of science-fiction, fantasy, or anything amazing; one of the best living writers, recommended to any avid reader.