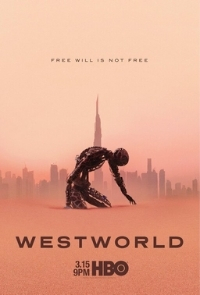 Westworld: Season 3
Created by: Lisa Joy and Jonathan Nolan
Written by: Lisa Joy and Jonathan Nolan
Starring: Thandiwe Newton, Jeffrey Wright, Ed Harris, Evan Rachel Wood, Tessa Thompson, James Marsden, Luke Hemsworth, Angela Sarafyan, Aaron Paul, Vincent Cassel, Peter Mullan, Hiroyuki Sanada, Lena Waithe, Marshawn Lynch
Reviewed by: Brad Williamson
Genre: Science-Fiction
Score: 3.5/5
Westworld returns to its roots in season 3 while also giving us something new, but ultimately fails to shed many of the same issues that have plagued it since the beginning of the second season. The first season was interesting and complex; as the show's complexity grows, however, explanations are often unsatisfactory or completely lacking, leaving plot holes and confusion scattered in the wake of an otherwise fascinating story.
Paul is a welcome addition to the cast. Everyone else is once again very good, except for Newton, whose poor, exaggerated acting remains difficult to stomach. The sets and cinematography continue to capture a ruinous world that is just enough like ours to unnerve any thoughtful viewer; the dystopian and revolutionary sequences are some of the most captivating of the series thus far.
The plot, or lack thereof I should say, once again confuses even itself. Everything makes sense in its own way, kind of, in the end, but too often things go unexplained. The pace also struggles as events jump around seemingly at random, forgetting characters for long stretches, then focusing on them for too long to make up for the lost screen time. It makes for a jumbled, though admittedly thoroughly enjoyable, hodgepodge of disconnected, half-explained short stories.
It feels like the show is now geared more toward fans of David Mitchell than Michael Crichton or Isaac Asimov. This isn't a bad thing, but it's unexpected. As a fan who has been expecting hard science-fiction ever since season 1, the follow-ups have disappointed.
Again I'm interested to continue watching, but I wish the show's focus would clarify, and it would be nice if explanations could preempt big changes instead of simply assuming the viewer will believe certain developments are possible. A big aspect of science-fiction is the ability to precisely explain how or why things happen, not simply surprise with random, impossible scenarios.