Seinfeld & Baseball Series: George Costanza, Hitting Instructor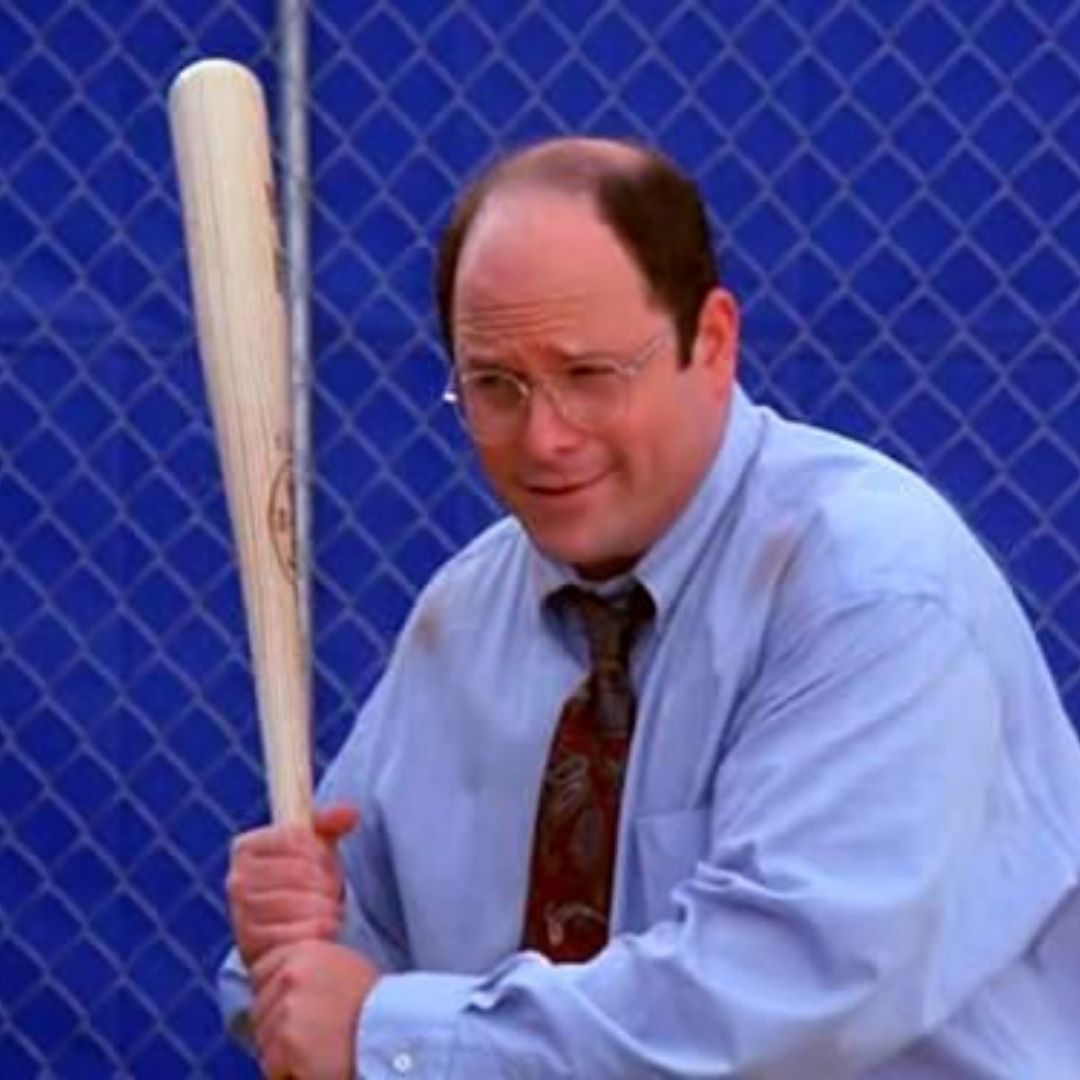 By:  Rob Leicht                Topic:  Baseball, Television
Larry David's classic sitcom Seinfeld is widely considered to be the greatest sitcom of all time. Over 20 years since its conclusion, the "show about nothing" remains massively popular—when Hulu's current deal expires in 2020 bidding for the streaming rights is expected to reach half a billion dollars. Seinfeld has indelibly inserted itself into our popular culture, and while it may be a show about nothing, there are many topics that are prevalent throughout its entire run. Of them, the most relevant to this website is baseball, from the Mets posters on Jerry's apartment wall in the pilot episode to George's front office career with the New York Yankees. As series creator Larry David is a lifelong Yankees fan and star Jerry Seinfeld a lifelong Mets fan, this intersection of sport and pop culture was inevitable. Thus I am excited to present to you a new Center Field of Gravity series: Seinfeld & Baseball.
Over 9 seasons and 180 episodes the baseball references and guest appearances are too numerous to count, but one of the most memorable baseball moments occurred in the episode titled "The Abstinence". In this episode George Costanza, unforgettably played by Jason Alexander, is forced to abstain from sex for six weeks because his girlfriend has mono. With his brain now freed for other functions besides thinking about sex, George becomes a genius and hilarity ensues. Through his job with the New York Yankees George uses his newly gained intelligence to give batting advice to Yankees legends Derek Jeter and Bernie Williams. He tells the pair,
Guys, hitting is not about muscle. It's simple physics. Calculate the velocity, V, in relation

to the trajectory, T, in which G, gravity, of course remains a constant. It's not complicated.
And let's not forget that George emphasizes his point by crushing a home run. Originally airing November 21st 1996, just a few weeks after the Yankees World Series win over the Braves, the exchange that follows is comedy gold:
Jeter: Who are you again?

George: George Costanza, assistant to the traveling secretary.

Williams: Are you the guy who put us in that Ramada in Milwaukee?

George: Do you wanna talk hotels, or do you wanna win some ball games?

Jeter: We won the World Series.

George: In six games.
Now, temporarily ignore the urge to open Hulu and watch this episode for just a moment. I want to focus in on a part of George's original line, "Calculate the velocity, V, in relation to the trajectory, T." This might be starting to sound a little familiar to the statistically inclined baseball fan. The velocity he is referring to is exit velocity, the speed of the baseball as it comes off the bat. George's trajectory is an analogue of launch angle, the vertical angle at which the ball leaves a players bat. Both statistics have become widely used and extremely popular during MLB's Statcast era (Statcast was installed in all 30 MLB stadiums in 2015), and both have been determined to be the primary factors in the hitting of home runs. Balls that are struck with a high launch angle are much more likely to result in a hit. If the batter strikes the ball hard enough and at the correct angle those hits turn into home runs. This idea has been embraced by the modern power hitter in the MLB over the past several seasons leading to a record breaking number of home runs. Which brings me to my point, Seinfeld's George Costanza was two decades ahead of his time and is the progenitor, the Godfather if you will, of the 'launch angle revolution'.
.